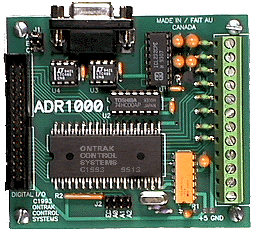 ADR1000 Serial Data Acquisition Interface
NOTE: The ADR1000 is not recommended for new designs. Alternative product, ADR2100, offers higher functionality and lower cost.
The ADR1000 serial data acquisition interface allows control of 32 digital I/O lines and 8, 8-bit analog inputs ( 0 - 5VDC) via an RS232 or RS422 or RS485 link. This low-cost serial data acquistion interface is easy to use with Visual Basic, Basic, C. Labview, Testpoint, or other high level languages that allow access to a serial port. Designed for entry level data acquisition or control applications. Daisy-chain up to eight boards for high I/O applications.
Key Benefits, ADR1000 Serial Data Acquisition Interface
8, 8-bit Analog Inputs ( 0 - 5VDC )
32 Digital I/O Lines
Versatile 16-bit Event Counter
RS232,RS422,RS485 Communication
Daisy-Chain Capabilities
5VDC Regulated Wall Adaptor Available
Specifications, ADR1000 Serial Data Acquisition Interface
Supply Voltage
5VDC +/- 1-%
Supply Current
17mA Typical, 30mA Max.
Operating Temperature
0 - 50C
ANALOG INPUTS (8)
Input Voltage Range
0 - 5VDC
Input Capacitance
1.2nF Typical
Input Impedance
>20Mohm
Accuracy
0.5%
DIGITAL I/O (32)
Sink Current
2mA Max.
Source Current
1mA Max.
Vout High
4.00V Min.
Vout Low
0.45V Max.
Vin High
2.2V Min.
Vin Low
0.8V Max.
EVENT COUNTER
Input Type
TTL
Maximum Count
65535 (16-bit )
SERIAL PORT
Type
RS232,RS422,RS485

9600 Baud, 8 bit words, 1 stop bit

no parity
Pricing, ADR1000 Serial Data Acquisition Interface
Note: The ADR1000 is a special order item and availability is not guaranteed due to NEC Corporation discontinuance of the MPU used in this product.
| Description | $US |
| --- | --- |
| ADR1000 | $225.00 |
| ADR1000PWR | $15.95 |