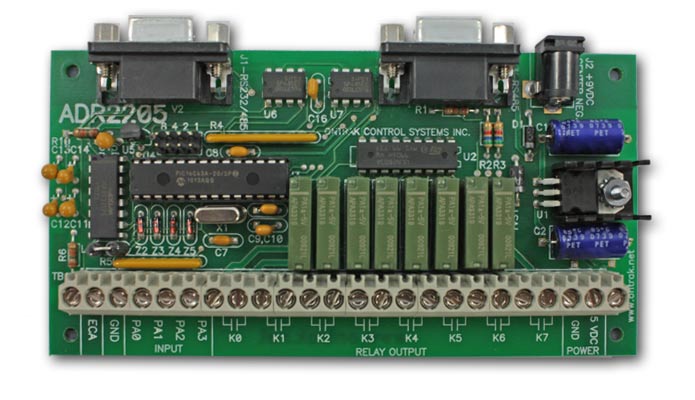 ADR2205 RS232, RS485 Relay I/O Interface ( Dimensions, 5.4" X 2.8" )
The ADR2205 relay I/O interface allows control of 8 relay contact outputs, 4 contact or TTL inputs, and one event counter via an RS232 or RS485 link. The ADR2200 can effectively convert a standard PC to a powerful PLC ( programmable logic controller ). High quality PA-Series relays from Aromat offer superior performance. This low-cost serial relay contact interface is easy to use with Visual Basic, Basic, C, Labview, Testpoint, or other high level languages that allow access to a serial port. The ADR2000 series of data acquisition interfaces are daisy chainable up to ten units. All ADR2000 series boards contain RS232 to RS485 convertors.
Click here to download USER MANUAL for ADR2205 ( PDF 585K )
Key Benefits, ADR2205 RS232, RS485 Relay I/O Interface
Provides a standard PC with PLC ( programmable logic controller ) functions.
Low-cost .
8, N. O. relay contact outputs rated 5.0A @ 120VAC, 5.0A @ 30VDC
High quality Aromat PA-series relays offer superior performance.
4 Digital inputs suitable for contact or TTL Input , also accept up to 24VDC
One, versatile 16-bit event counter
Programmable watchdog timer.
RS232,RS485 communication .
Transparent RS232 port at each node in daisy-chained application .
Daisy-chain capabilities. ( Up to 10 boards) ( 80 contacts total )
Compatible with all ADR2000 series products.
Operates on standard 9VDC wall adaptor or 7 -15 VDC .
Specifications, ADR2205 RS232, RS485 Relay I/O Interface
ADR2205
Supply Voltage
5VDC or 7- 15VDC
Supply Current ( Relays De-energized )

Supply Current ( All Relays Energized )

20mA Typical 40mA Max

170mA Typical 200mA Max

Operating Temperature
0-50C
Contact Outputs ( 8)
Type
Normally Open
AC Ratings
5.0 Amps @ 120VAC MAX
DC Ratings
5.0 Amps @ 30VDC MAX
Relay Approvals
UL, CSA,TUV
Digital Inputs (4) ( TTL or Contact Input )
Vin HIGH ( MAX )
28VDC
Vin HIGH ( MIN )
2.0VDC
Vin LOW ( MAX )
0.7 VDC
Vin LOW ( MIN )
0VDC
Event Counter ( 1 )
Resolution
16-bit
Input Type
Contact or TTL
Max Frequency
250Khz
Serial Port
Type
RS232 and RS485 9600 Baud ( Higher baud rates available by special order up to 56K )
Daisy-Chain
Up to ten boards
Pricing, ADR2205 RS232, RS485 Relay I/O Interface ( Includes RS232 cable )
| Description | $US |
| --- | --- |
| ADR2205 | $189.00 |
| ADR2205 QTY 5-9 | $179.00 |
| ADR2205 QTY 10+ | $169.00 |
| ADRPWR | $12.95 |