Electronic Custom Design Services
Lets start with a quick look at ontrak control systems.....
| | | |
| --- | --- | --- |
| | | |
| Tom Fortin-Engineering Manager | Product Test Station | Quality Inspection |
| The vast majority of products manufactured by Ontrak Control Systems are custom products developed for OEM's in various industries including medical instrumentation, security, industrial control and Point-Of-Sale. | All products, whether stock or custom, are subject to complete functional verification before delivery ensuring reliable operation in the field. | Inspection of all products is performed and documented throughout the assembly, cleaning,and testing process. |
| | | |
Test Equipment for certification
CSA-UL-TUV Safety Test Station
Automated GTEM Cell for RF Emissions and Immunity Tests
ESD Test Station
All CSA/UL and TUV certified products are subject to
Hi-Pot and ground bond testing.
The GTEM RF cell facilitates RF emmissions and imunity testing of all products to CE,FCC and ICES standards.
The ESD test station is an essential tool for CE certification.
CERTIFICATION and Prototyping solutions Made Easy
Schaffner MODULA EMC Generator Test Station
Novastar Wave Solder Machine
Novastar SMT Pick-and-place Machine
Product certification for safety and EMC standards including FCC Part 15, CSA, UL,TUV and CE Mark can be managed by our engineering team. In-house test facilities include equipment required to certify to most common CE standards including; CISPR22 Radiated + Conducted RF Emissions
EN61000-3-3 Flicker
EN61000-4-2 ESD Immunity
EN61000-4-3 Immunity to Radiated RF
EN61000-4-4 Electrical Fast Transient
EN61000-4-5 Surge Immunity
EN61000-4-6 Conducted RF Immunity
EN61000-4-11 Immunity to Dips and Interruptions

Pre-scans can be performed in the design cycle insuring satisfactory tests on the final product.
Production of PCB assemblies is handled by automated assembly and soldering machines from Novastar, APS and Global Production Devices.
Added in 2016, the DDM Novastar SMT line will facilitate the production of our new ADU70 series products.
Product Development and custom Firmware
| | | |
| --- | --- | --- |
| | | |
| Standard products always in stock | ISEL Prototype Machining CenterS | The Shipping Department |
| Stock products ship same day while modified stock ship in 2-5 days. Full custom requires a 3-4 week leadtime. | Custom cut-outs for our standard ADU enclosures can be turned around in 24 hours. | Priority shipping is handled exclusively by FED-Ex for North America and Europe for next day delivery of stock and custom products. |
| | | |
CNC Units For Fast Prototyping
Production Jig for ADU Products
Prototype Jig for ADU products
Servo Machine for Cutting Aluminum Enclosures

Our in-house CNC machining center is well set up for quick prototype development of small plastic and aluminum enclosures. Your complete product can be developed with no waiting for outsourced components.

Update: As of Nov 2014 the CNC center has been upgraded to include 10 Techno-Isel CNC mills for production of plastic and aluminum, enclosures and faceplates.
Design Service Options
1. Custom Hardware Interfaces
At ONTRAK CONTROL SYSTEMS INC., we have been designing and manufacturing serial data acquisition interfaces since 1986. The majority of our business consists of custom design of interfaces for a wide variety of applications including, automotive, medical instrumentation, industrial, SCADA, vending, sports medicine, and R&D . Custom design can involve a new design from the ground up or modified stock products. Engineering charges are very reasonable and are often $0 for modified stock products.
Stock products can be modified to provide signal conditioning or drive circuitry to interface, relays, sensors, keyboards, temperature sensors, bridge type sensors, LED arrays, LCD modules, stepper motors, dc motors, quadrature encoders or whatever is required by the target application.

2. Custom Software Solutions
ONTRAK CONTROL SYSTEMS INC., has the capability to provide software solutions for your application. Using a variety of development platforms, complete turn-key solutions can be produced. Whether DOS, or Windows Based, solutions can be developed quickly and efficiently using our existing libraries of software functions. Coupled with a stock or custom hardware interface, a complete turn-key system can be produced.
3. Custom Firmware in Silicon
We offer a unique service to OEM's who require serial data acquisition functionality in their products. We will license our core products for use in your product by supplying pre-programmed MPU's with the functionality you require. I/O counts can range from 1 to 100's. A/D, D/A, digital I/O, counters, timers, serial ports are just a few of the functions available. Surface-mount or through-hole packages with our stock or custom firmware designed to work with target hardware, will be shipped at very reasonable rates and short lead times.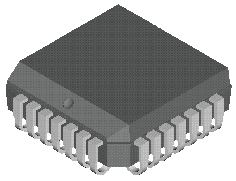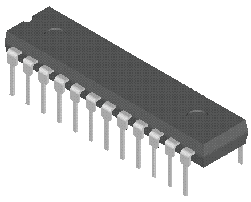 To inquire about custom products contact Tom Fortin at our Sudbury office. We will prepare a quote in only a few days. Lead times are typically 5 days for modified stock products or 4-5 weeks for new designs.